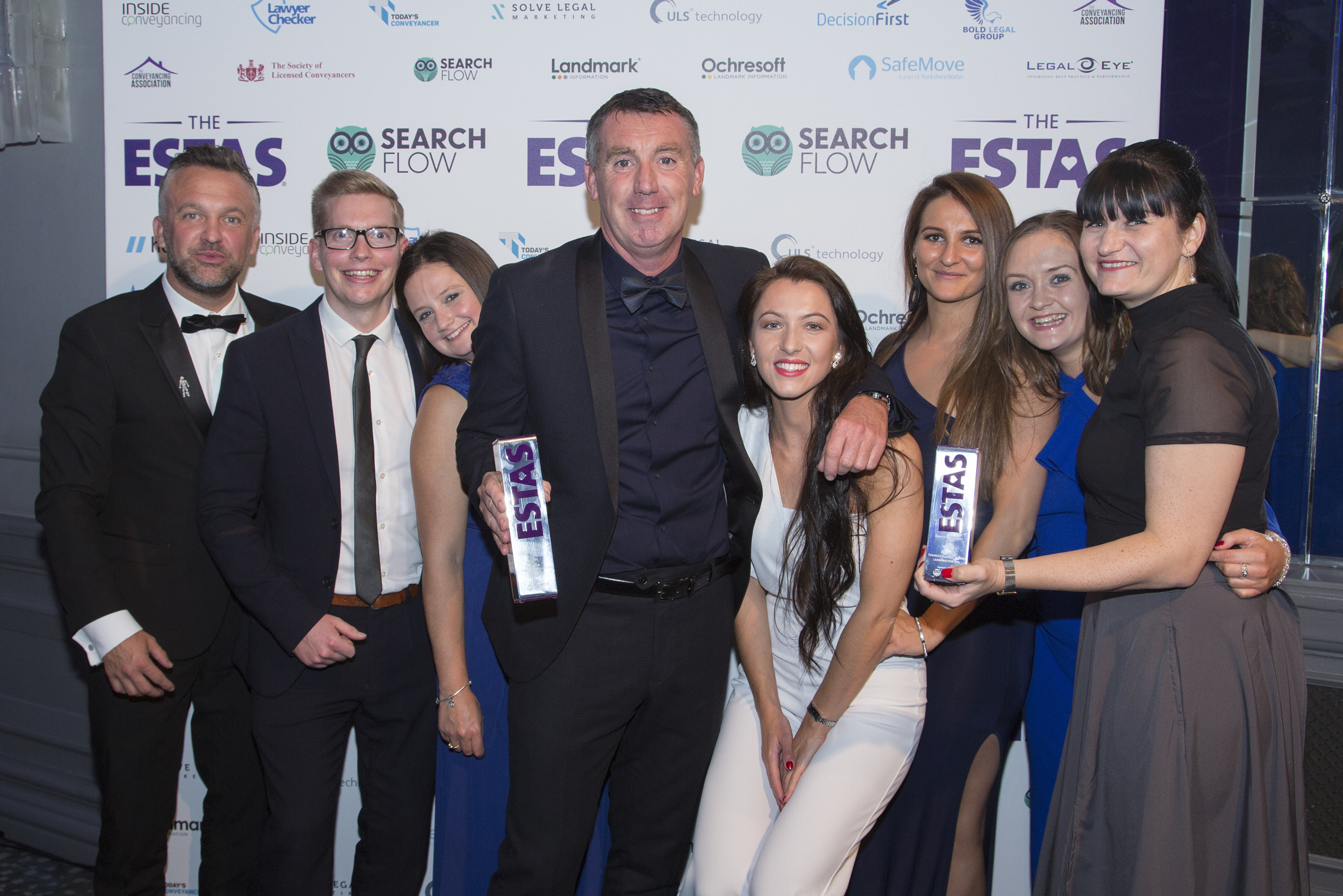 On Friday 19th October the firm received Awards for Best in County (Leicestershire & Warwickshire) Silver and Bronze in the Midlands, Bronze for Best Local Group and a People Award for Conveyancer Kelly Roberts. A team of 12 from the firm attended the prestigious ESTAS Customer Service Awards for 2018 sponsored by SearchFlow, the biggest awards in the UK conveyancing sector. The winners were announced by Phil Spencer, the TV property expert at a glamorous dinner & ceremony at the Grosvenor House on Park Lane in London. The event was attended by 400 of the UK's top property lawyers.
Spencer, who has hosted the ESTAS every year since their inception in 2003 addressed the audience "The ESTAS are special awards because shortlisted and winning firms are selected purely on the service you deliver to your clients. Real feedback from real customers experiencing real service, I don't think there can be a greater honour in the industry than to receive an award based on that mantra."
The ESTAS Awards determine the best conveyancing firms in the UK based purely on feedback from customers who are asked a series of questions about the service they have received from their conveyancer or solicitor. 8,000 surveys were completed by customers during the competition.
The firm have been asking clients to vote throughout the year and received votes from over 60 clients across Leicestershire & Warwickshire.
Jamie Connolly Director at Thomas Flavell & Sons said "We are absolutely thrilled to be recognised at this year's ESTAS. It means so much to us as we know it is all down to our client's feedback and we would like to personally thank each client who took part. As a firm, we take client care very seriously and will always go that extra mile for them. Clients have a choice, and to compete in this market we need to stand out. We have always been very proud of our personal service and this proves we are delivering exactly what we promise. We really enjoyed the event and are thrilled with the results!"